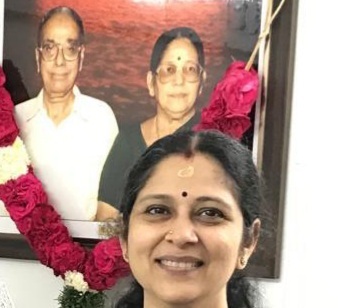 Generation of AMC
A young selfless service minded doctor in T Nagar, married a doctor bride who was already working as a doctor at Sulurpet, AP in May 1959. Once in Chennai, she joined Kasturibai Gandhi hospital, fondly known as Ghosha hospital in those days, in the OB Gyny Wards as an honorary surgeon by August 1959 and completed her Diploma in Gynaecology and Obstetrics in 1962. She delivered all her four children in the same hospital while on duty. In 1964, a small one bed nursing home, Anuradha Maternity Centre was founded at a south facing rented premises in Mahalakshmi Street, T.Nagar as an annex to the well established General Medical Practice (with compounders, medicine making section) of the doctor.
With borrowed funding, the doctor couple moved to an old building at 15, Dhandapani Street, and with minor alterations to the building, began working with a labor room, two consulting rooms and five beds. She later qualified to become a Doctor of Medicine (MD) while continuing to serve the Maternity Hospital, Egmore as an honorary Civil Surgeon for over 13 years.
Blessed by the Almighty to serve the community, Anuradha Maternity Centre has now flourished to be an exclusive Women and Children specialty Hospital with state of art Operation Theatre, post operative wards, labor wards, scanning facility, neo natal care and a group of specialist doctors and paramedics on duty enabling a smooth and safe journey for women who are mothers to be.
This Maternity Centre is now under the leadership of Dr.Anita Parthasarathy MD, who is the next generation Medico in the family of the founders, Dr.K.Sourirajan and Dr.Rukmani Sourirajan MD.