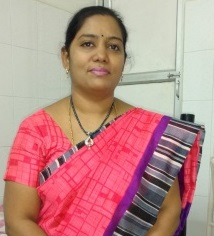 Dr. KIRTHIKA.K.S M.B.B.S,M.D(O&G),D.N.B., F.N.B.(Reprod Medicine)
Languages:
English, Hindi, Tamil.
Academic

Has distinction in Anatomy, Biochemistry, Pathology and pharmacology during under graduation.
Gold medalist of 2002-2004 batch (79% marks secured) at PGIMER.
Delivered presentions in conferences: PROGRESS 2013, PAMCI Madurai 2013, CME of reproductive medicine of Womens center 2009, 2010, 2011, 2012.
Had been faculty for under and post graduates(MCI) during year2006-2009 and for DNB students during 2009 to 2011. During 2011-2013 served as faculty for Dr MGR university fellowship in reproductive medicine at Womens center.
Experience

Developed passion for reproductive medicine during the post graduation at PGIMER. Participated in the Quiz for infertility conducted by FOGSI and finished runner up in the North Zone. Worked with Professor Dr Lakbir Dhaliwal (HOD and the Head of the department of reproductive medicine in PGIMER) in the infertility unit during post graduation.
During the period at Sri Ramachandra medical college, worked as an associate with Prof. Dr Usha Rani (Senior Consultant in SMART, ART unit of SRU).
Specialized in the branch of Reproductive medicine under the National Board Conducted Fellowship course (2 years) at Womens Center, Sri Ramakrishna hospital, Coimbatore. This structured fellowship course includes working experience in various aspects of infertility including initial evaluation of both the partners, decision making regarding the optimal treatment to be offered, surgical intervention to enhance fertility (both laparoscopy and hysteroscopy), various IVF stimulation protocol, Oocyte pick up and embryo transfer. Was associated with Dr. Mirdhubhasini Govindarajan, a pioneer in the field of reproductive medicine.
For the past two and half years, I have been associated with Womens center fertility unit of Chennai and have independently performed IVF stimulations and Oocyte retrieval and embryo transfer. I have a working experience about the setting up of the IVF clinic and Lab
Have performed around 75 IVF stimulation, oocytes retrieval and embryo transfer independently with good success rate