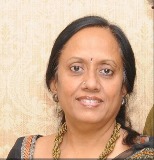 DR.NIKHILA SHARMA
Dr. Nikhila Sharma, an alumnus of the Madras Medical College with an M.B.B.S and D.C.H., has been in the field of Pediatrics for over 32 years. She served for the Central Government Medical Services in the Railways Headquarters Hospital Perambur, for over 10 years the areas of General Pediatrics and Neonatology, before moving on to work at the reputed Childs Trust Hospital, Nungambakkam (Chennai). She was associated with Childs Trust Hospital right from its inception, under the guidance of Dr. M.S.Ramakrishnan. She has been in private practice now for over 23 years.
She had the privilege of working with doyens in the Pediatrics medical field like Dr. Sarala Rajajee, and Dr. L. Sulochana. She has presented papers in State Level Conferences and Seminars. She is known to be a doctor who cares, and shows utmost patience and understanding while relating to her patients. Dr. Nikhila is also very resourceful, and brings to the patient all the necessary information, understanding and assistance that is needed to deal with the situation. She has authored articles on Child Care and Child Health for Kumudam and Mangaiyar Malar Magazines. She has also published a handbook on Child Health, for the guidance of young mothers, under the title - "Amma, Naan Nalama", which has gone into second edition. She has also appeared in Talk Shows on Child Health in Sun, Kalaignar and Jaya TV channels.
Dr. Nilhila has been associated with AMC since 1990 along with the illustrious Dr. Rukmini Sourirajan. She has assisted Dr. Rukmini in taking care of newborns, both born to normal as well as to high-risk mothers. She has particularly shown high degree of commitment in the long term follow-up of pre-term and high-risk babies. She is very happy to be attending to young mothers currently, who were themselves new borns taken care of by her !